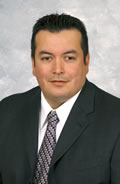 Craig A. Bill was appointed Director of the Governor's Office of Indian Affairs (GOIA) by Governor Gregoire in July 2005 and was re-appointed by Governor Jay Inslee in March 2013.
As the Director of the GOIA, he serves as an advisor on tribal issues and liaison between the State of Washington and Indian Tribes and tribal organizations for the Governor's Office. The GOIA is also responsible for promoting the government to government principles outlined with the 1989 Centennial Accord signed between the State and Tribes.
Prior to his appointment at the GOIA, Craig was the Director of Intergovernmental Affairs and Advisor to the Tribal Chairman for the Lummi Nation tribal government located in Bellingham, WA. He is a graduate of Central Washington University with a B.A. degree and double major in Political Science and Social Science. While at Central, Craig was a 4-year letter winner in football and member of the 1995 NAIA National Championship team. Craig is an enrolled member of the Swinomish Tribe and descendent of the Colville Confederated Tribes and Choctaw Nation of Oklahoma.